Trnovo is a municipality located about 30 kilometers southeast of the city of Sarajevo, in Bosnia and Herzegovina, in an inter mountain area of Treskavica, Visočica, Bjelašnica, Igman and  Jahorina. In pre-war period the area of municipality was 451 square kilometers, but after the Dayton Agreement area is split between Trnovo FB&H and Trnovo RS, and area of Trnovo FB&H today is 338.4 square kilometers.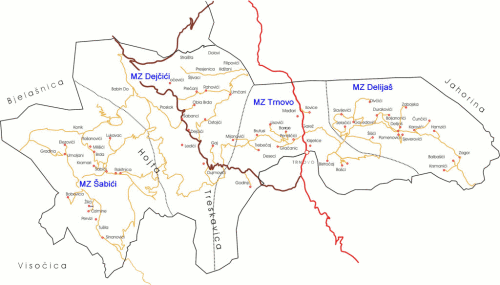 The current Municipality of Trnovo administratively belongs to the Sarajevo Canton and it represents the largest municipality of Canton. Sarajevo International Airport is located about 27 km from Trnovo. Trnovo as the largest urban, cultural, economic, commercial and transportation center, positioned on the main road M- 18, plays an important role in communication from the central part of Bosnia and Herzegovina to the south-east, and links the Adriatic Sea with a continental area.
The coat of arms of Municipality of Trnovo represents the scenery and a typical Bosnian tombstone, called "stećak". The flag is a 2:3 green-white-cyan tricolor with the coat of arms of Trnovo in the middle. Apparently, green represents "fields, woods and mountains"; blue "the rivers and the air", whereas white apparently represents "traditions and snowy mountains".